TYRE PRESSURE MONITORING SYSTEM CAR 4WD CARAVAN 4 Internal SENSORS 12V 24V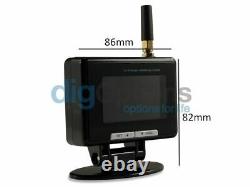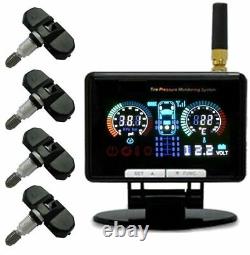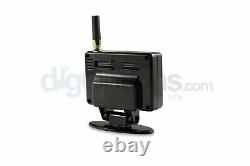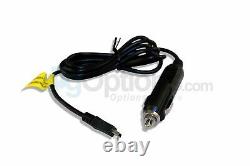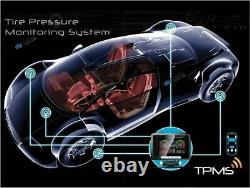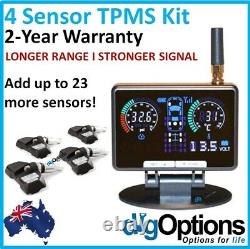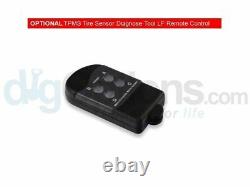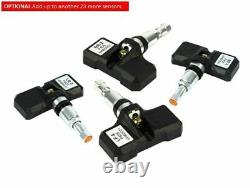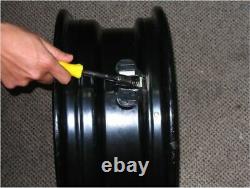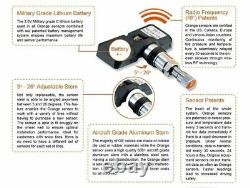 TPMS TYRE PRESSURE MONITORING SYSTEM CAR 4WD CARAVAN 4 Internal SENSORS 12V 24V. Masten's tire pressure monitoring systems TPMS TP-05 are designed to be installed directly in your car, 4x4, caravan, trailer etc tires to provide accurate pressure and temperature readings. Warning will trigger if your pressure is not your set pressure. Spare Sensors are available to monitor extra tyres. If you're after spare sensors the part numbers are TP-05S (internal valve) and TP-06S (external cap). Do you know how much air is in your tires? How about in your trailer tires? In US all new passenger cars are required to have sensors to measure tire pressure; and other countries are likely to follow. It is just as important to maintain the correct tire pressure in your caravan and trailer tires when you are towing.
75% of roadside flats are caused by a slow leak or under inflation. 250,000 accidents a year in the US are caused by under inflated tires.
15% under inflation reduces fuel mileage by 1%! Masten's tire pressure monitoring systems (TPMS) are designed to be installed directly in your car, 4x4, caravan, trailer etc tires to provide accurate pressure and temperature readings. A warning will trigger if your pressure is below your set pressure, and you can set your desired pressure range.
Benefits of the Masten system. Easy to install display with option to hard-wire or simply plug into cigarette adapter. Continuously updated pressure & temperature readings. The ability to set your own baseline pressure. Unique adjustable valve design allows sensor to fit almost every rim design.
External Cap sensors are a very convenient and lower cost option. Why are internal valves better? A sensor mounted directly inside your tire will provide a more accurate pressure and temperature reading however needs to be professionally fitted. A cap design is DIY Install but can be damaged by a road hazard, can be stolen, may cause vehicle balancing issues, and can potentially provide inaccurate readings if installed incorrectly. Improve safety and protect important items you are towing. Tyre Pressure Monitor System Description. The Masten TPMS is a Premium, High-End TPMS (Tyre Pressure Monitoring System) with color LCD display wireless. This TP-05 TPMS Kit includes 4 Internal (professionally mounted) sensors. The benefit is reduced risk of loss. The downside is they are not as convenient to fit at the external cap style TP-06 sensors. The Masten TP-05 and TP-06 is a High Quality product which has been Designed and Made in Taiwan. The Masten TP-05 and TP-06 TPMS Kits can measure up to 87psi. The highest standard pressure should be set no higher than 69psi. (Because the first high pressure alert will start when reaches 125% of the standard pressure). DIG Options also offer the Masten TPMS for Trucks which can measure up to 188psi.
The highest standard pressure should be set no higher than150psi. This is via special order.
Please message us for information. Color LCD TPMS Monitor Display. Use of common valve (easily available and replaceable). Monitor up to 27 tyres/tires. Measure tire pressure, tire temperature, sensor battery level, signal strength and vehicle battery level.
Bi-directional (2 ways) communication on sensor. Ability to set a 2nd pressure range for Off road driving (low pressure). Monitor Car Battery and Sensor Voltages/Signal. Early warning of slow leaks. 4 Long Life Sensor Valves.
Sensor Receiver/TFT Full Colour Dash-mount Monitor. Why do you need a TPMS? Optimal Driving Safety: Under-Inflated tire pressure will result in reduced vehicle stability / control ability and deformation tires, while the Over-Inflated tire pressure will increase your chances of a sudden flat tire. Fuel Economy: With instant monitoring on the tire pressure, the TPMS device may save you up to 4% of fuel on average with proper tire pressure. Extended Tire Life: Under-Inflated tire pressure will cause excessive tire wear by up to 50% more if the tire is Under-Inflated by 9%.
More environmentally friendly: Keeping the tire pressure at the correct pressure level can reduce CO2 emission up to 40%, helping to reduce the global warming effects. This device complies with part 15 of the FCC rules of America. Operation is subject to the following two conditions.
This device may not operate because of the harmful interference. The undesired operations may cause system failure.
This equipment has been tested and found to comply with the limits for Class B devices, pursuant to part 15 of the FCC rules. These limits are designed to provide reasonable protection against harmful interference. This equipment can radiate radio frequency energy and if not installed and used in accordance with the instructions, it may cause harmful interference to radio communications. However, there is no guarantee that interference will not occur in a correct installation.
If this equipment does cause harmful interference to radio and television reception, which can be determined by turning the equipment off and on, the user is encouraged to try to correct the interference by one or more of the factoring measures. Reorient or relocate the receiving antenna. Increase the separation between the equipment and the system.
Change the place and connection way of voice console. NCC Caution: RF can not work upon the security of aviation/sail, and the legal communication. S any interference, it should be stopped immediately until itâ?? Any changes or modifications in construction of this device could void the userâ?? S authority to operate the equipment.
To comply with the FCC RF exposure compliance requirements, this deviceâ?? S antenna must not be co-located or operating to conjunction with any other antenna or transmitter. S TPMS system is designed to monitor the tires condition and alert the user if there is any irregularity detected. Use of chemical sealants for temporary resealing or re-inflation in tire assembly may affect or even damage the sensors function.
For your own safety, please read and understand the instruction manual before proceeding to the installation and setup. Please seek qualified personnel for proper tire sensor installation. Only use the power cord cigarette adapter supplied by DIG Options. Do not use the power cord in any other USB device. It is NOT USB compatible and may damage your USB device.
MASTEN shall not be held responsible for any damage caused to any USB device if you use this power adaptor in any other device. When you unplug the power adaptor, do not pull from the cord. It may damage the adaptor.
Please download the instruction manual at the following link. 0 - 6.9bar (101psi). 0 - 5.4bar (78psi). Heavy Machinery vehicles need order 12V1 type.
If we anticipate a longer lead time, it will be noted in the item description or you will be advised before we dispatch your order. Required by your country for importing consumer goods. We do not collect this beforehand, and can't give you an estimate of the cost, because it varies widely around the world. We will be happy to remove the signature requirement on request; please contact our team before purchasing for details on what you require. Please note that, in this case, you will be accepting responsibility if anything were to happen to the package. We will take all the required precautions to pack your item well to avoid any incidental damages along the way. Today, there are over 15 staff members across 4 countries focussing on Engineering, Support, Marketing, Accounts and Sales. Drop by and say hello.
Our opening hours are Monday to Friday however, exceptions may be made to meet you there on a weekend. Since 2009 Masten Engineers have been at the forefront of vehicle electronics for both OEM and Aftermarket. We maintain critical spare parts so in most occasions, parts are on hand and ready to solve your issues within a timely period. If we don't have the part in stock, in most cases we can get it in for you despite the product's age.
If you have any questions please dont hesitate to get in touch with our Support team who are here to help. We don't take ourselves too seriously; until it comes to quality! We're ultra-selective about the electronics, materials, manufacturing process, quality control and finishes of every product. Put simply, we only sell the best. The item "TYRE PRESSURE MONITORING SYSTEM CAR 4WD CARAVAN 4 Internal SENSORS 12V 24V" is in sale since Friday, June 19, 2020.
This item is in the category "Vehicle Parts & Accessories\Car & Truck Parts\Wheels, Tyres\Tyre Accessories". The seller is "factory_fit" and is located in Brunswick East. This item can be shipped worldwide.
Brand: Masten
MPN: TP-05
Manufacturer Part Number: TP-05