MASTEN Tyre Pressure Monitor System Car Motorcycle for Android iOS iPhone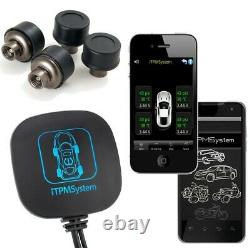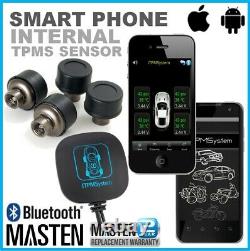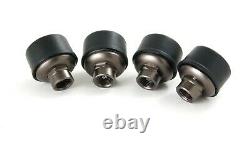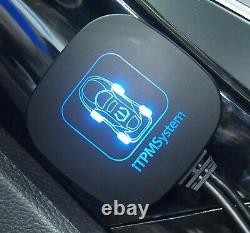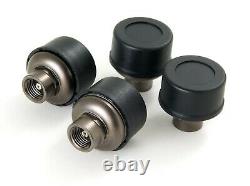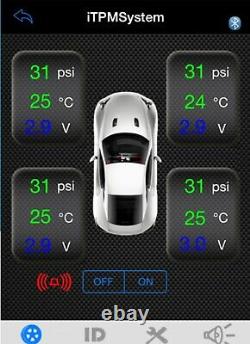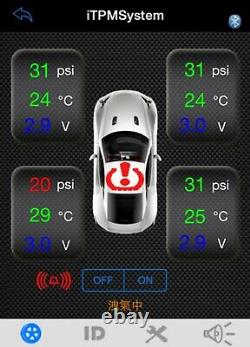 Masten Bluetooth iTPMS Tyre Tire Pressure Monitor System Car Motorcycle for Android iOS iPhone TPMS. Display your critical tyre information on your device. The Masten Smart TP-11 TPMS Tyre Pressure Monitor System with 4 High-Quality Sensors is specifically designed for pairing to Smartphones, Tablets and Computers via Bluetooth. It includes the following parts. Universal TPMS Module x 1.
Premium External Cap Sensors x 4. Installation Cable x 1 set. Masten iTPMS for Android and iOS Devices. With Premium DIY Cap Sensors and Replacement Battery.
If you're after spare sensors the part numbers are TP-12S (internal valve) and TP-11S (external cap). The Masten TP-11 TPMS Tyre Pressure Monitor System is specifically designed for Smart Phones and the included (via download) iTPMS Application which is suitable for most types of vehicles including Cars, Trucks, Buses, Motorcycles and more. The TPMS module simply receives a wireless signal from the 4 sensors and send the information by Bluetooth to your Smart Device. Monitor the pressure/temperature of four wheels at the touch of a button through your Smart Device.
Just connect the module to your Smart Device by pairing the Bluetooth of the iTPMS to your Device. The multi colour interface allows you to easily identify problem tyres in red for fast evaluation.
User programmable high and low pressure range. Can monitor 2, 3, 4 or 6 sensors simultaneously. User Manuals come in the box for unit and sensors: E-Copies also available from us.
If the sensors have not been moved for 1 hour or more they will be in sleep mode. After around 5 seconds of movement the sensors will'wake' up and start sending the tyre information data (pressure/temperature) every 6 seconds to the monitor.
Will this system work with my Device? This device will work with iOS and Android Operating Software. How accurate are the sensors?
What APP do you recommend? ITPMS - links available upon request.
What are Tyre Pressure Monitor Systems? Passenger vehicles in the 1980s and today is a mandatory feature in the United States. Benefits of a Masten TPMS? The dynamic behavior of a pneumatic tire is closely connected to its inflation pressure. Extreme under-inflation can even lead to thermal and mechanical overload caused by overheating and subsequent, sudden destruction of the tire itself. Additionally, fuel efficiency and tire wear are severely affected by under-inflation. Tires do not only leak air if punctured, they also leak air naturally, and over a year, even a typical new, properly mounted tire can lose from 20 to 60 kPa (3 to 9 psi), roughly 10% or even more of its initial pressure. The significant advantages of TPMS are summarized as follows. Fuel savings: According to the GITI, for every 10% of under-inflation on each tire on a vehicle, a 1% reduction in fuel economy will occur. In the United States alone, the Department of Transportation estimates that under inflated tires waste 2 billion US gallons 7,600,000 m. Extended tire life: Under inflated tires are the #1 cause of tire failure and contribute to tire disintegration, heat buildup, ply separation and sidewall/casing breakdowns. Further, a difference of 10 lbs. In pressure on a set of duals literally drags the lower pressured tire 13 feet per mile. Moreover, running a tire even briefly on inadequate pressure breaks down the casing and prevents the ability to retread. It is important to note that not all sudden tire failures are caused by under-inflation. Structural damages caused, for example, by hitting sharp curbs or potholes, can also lead to sudden tire failures, even a certain time after the damaging incident. These cannot be proactively detected by any TPMS. Decreased downtime and maintenance: Under-inflated tires lead to costly hours of downtime and maintenance.
Improved safety: Under-inflated tires lead to tread separation and tire failure, resulting in 40,000 accidents, 33,000 injuries and over 650 deaths per year. Environmental efficiency: Under-inflated tires, as estimated by the Department of Transportation, release over 57.5 billion pounds of unnecessary carbon-monoxide pollutants into the atmosphere each year in the United States alone.
Class 2 , Bluetooth 3.0 + EDR. 40 °C to 125°C ± 1°C. TP-11S 9.0g±0.2 g /About 12 months.
TP-12S 27g ± 0.5 g/ About 5 years. USB Car Power adaptor 24V to 5V. If we anticipate a longer lead time, it will be noted in the item description or you will be advised before we dispatch your order. Required by your country for importing consumer goods.
We do not collect this beforehand, and can't give you an estimate of the cost, because it varies widely around the world. We will be happy to remove the signature requirement on request; please contact our team before purchasing for details on what you require. Please note that, in this case, you will be accepting responsibility if anything were to happen to the package. We will take all the required precautions to pack your item well to avoid any incidental damages along the way. Today, there are over 15 staff members across 4 countries focussing on Engineering, Support, Marketing, Accounts and Sales.
Drop by and say hello. Our opening hours are Monday to Friday however, exceptions may be made to meet you there on a weekend.
Since 2009 Masten Engineers have been at the forefront of vehicle electronics for both OEM and Aftermarket. We maintain critical spare parts so in most occasions, parts are on hand and ready to solve your issues within a timely period.
If we don't have the part in stock, in most cases we can get it in for you despite the product's age. If you have any questions please dont hesitate to get in touch with our Support team who are here to help. We don't take ourselves too seriously; until it comes to quality! We're ultra-selective about the electronics, materials, manufacturing process, quality control and finishes of every product.
Put simply, we only sell the best. The item "MASTEN Tyre Pressure Monitor System Car Motorcycle for Android iOS iPhone" is in sale since Sunday, September 13, 2020. This item is in the category "Vehicle Parts & Accessories\Car & Truck Parts\Wheels, Tyres\Tyre Accessories". The seller is "dig_options" and is located in Brunswick East. This item can be shipped worldwide.
Brand: Masten
MPN: TP-11
Manufacturer Part Number: TP-11