Autel MaxiTPMS TS601 OBD2 Tire Pressure Monitoring TPMS Reset Prog/ramming Tools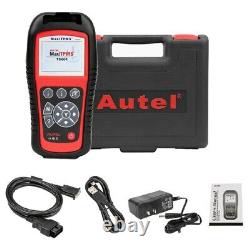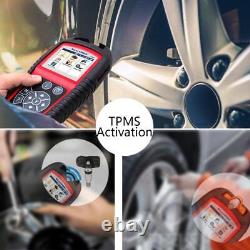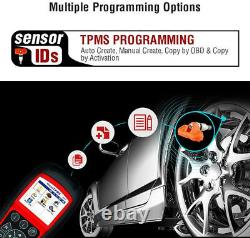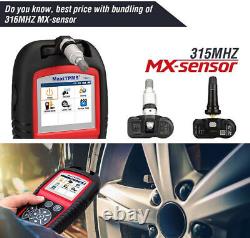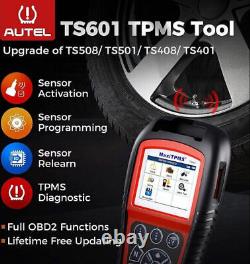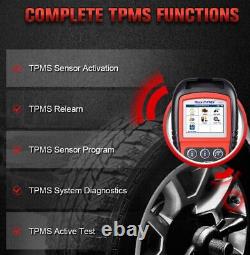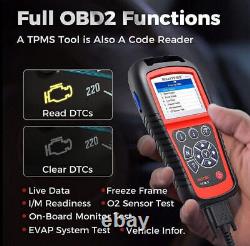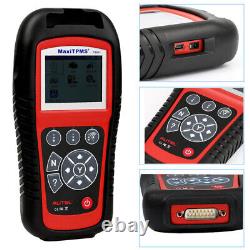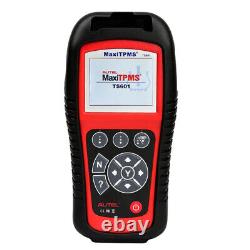 Instead of sending back directly without permission, thank you! Original Autel MaxiTPMS TS601 TPMS Diagnostic and Service Tool. The MaxiTPMS TS601 is the most powerful TPMS diagnostic & service tool in the world capable of fully diagnosing TPMS problems as well as activating TPMS sensors and reprogramming the vehicle's ECU. This professional tool is the best solution for tire shops and automotive workshops to perform TPMS service!
AUTEL MaxiTPMS TS601 TPMS diagnostic & service tool. TS601 is specially designed to provide TPMS services including TPMS Sensor Check, TPMS Relearn, and TPMS Sensor Programming to all known OEM/Universal TPMS sensors for helping technicians to quickly find out faulty TPMS and turn off MIL; OBD DIAGNOSTICS: The TPMS tool offers full OBD diagnostic functions including but not limited to Read/Clear DTCs, Vehicle Information, O2 Sensor Test, I/M Readiness Monitor, etc. To carry out a quick test on the engine system of OBDII-compliant vehicles; COST-EFFECTIVE: TS601 is an upgraded version of TS501/TS408/TS401 with powerful service functions. It supports tire pressure-type selection to help GM, Ford, and Chrysler users to rewrite the tire pressure reference value when modifying the hub; PROFESSIONAL TESTING: Equipped with the RKE & RF monitor, the TPMS tool is capable of accurately testing the 315MHz or 433MHz key fobs to ensure perfect running.
You're able to quickly identify the condition based on audio and visual indications. English, French, Germany, Spanish, Portuguese, Dutch, Polish, Swedish, Japanese, Korean, Russian, Italian. Please tell us about your S/N of machine to activate the language you need after you get it.
Activates all known OEM/Universal TPMS sensors using 125KHz continuous or modulated wave signals; 2. Reads sensor data including sensor ID, tire pressure, temperature, battery condition, OEM part number, OEM sensor maker and OEM frequency; 3. Allows you to directly read feedback from all 4 sensors, clearly view the status of all TPMS sensors, and compare sensor and ECU data to instantly pinpoint system faults; 4. Offers on-tool relearn procedure for every TPMS-equipped American, Asian and European vehicle. No need for relearning charts or internet lookups; 5.
Programs AUTEL MX-Sensor with multiple options available including Auto Create, Manual Create, or Clone Sensor IDs with no sensor re-learn required for sensor positioning; 6. Offers OBD II Relearn to write IDs to vehicles directly without further procedures; 7. Offers visual/audio responses to make the operations much easier to complete; 8. Checks Remote Keyless Entry-Key FOB for transmissions; 9. Incredibly easy to use with intuitive navigation and step-by-step on-screen instructions.
Professional TPMS Diagnosis and Programming. The easy-to-use TPMS tool Autel TS601 provides users with unparalleled experience of efficiency and accuracy for complete TPMS diagnosis. Instead of simply checking the sensor data, sensor ID, tire pressure/temperature, battery condition, sensor position and diagnosing the TPMS to read/write sensor ID, read/clear TPMS codes (turn off TPMS warning light), retrieve TPMS ECU information, and perform actuation test, this TPMS tool allows user programming the sensor data to MX-sensor and replacing faulty sensor that is with low battery life or is not functioning. Fast Access to Accurate OBDII Diagnosis. Autel TS601 is the first one to integrate the TPMS tool with OBDII code reader.
Except professional diagnosis to the TPMS, you can also perform the exceptional diagnosis to vehicle engine running conditions and the operating status of the exhaust after-treatment, which is called OBDII diagnosis. With OBDII diagnostic functions, you can quickly check the vehicle self-inspection condition, accurately locate the fault that caused the Check Engine Light, and easily turn off the check engine light after the maintenance and repair. Easy and Fast MX-Sensor Programming. The TPMS sensor programming can and will only work with the Autel MX-sensor.
There are 4 options available for you to complete MX-sensor programming, and they each have their own advantages and characteristics: Auto Create applying random ID for the tested vehicle Manual Create manually input the random ID or the original sensor ID Copy by OBD read sensor ID with Relearn function, and write it to MX-sensor Copy by Activation automatically write in the retrieved original sensor data to MX-sensor in the case of original sensor is triggered. Activates ALL magnetic, frequency and tire deflation triggered sensors using 125KHz continuous 2.
Or modulated wave signals 3. Receives both 315MHz and 433MHz signals 4. Reads / writes sensor ID from vehicle ECU 5.
Reads / clears codes of TPMS system and resets malfunction indicator light 6. Reads activated sensor data including sensor ID, tire pressure, temperature, battery condition, OE part number, relearn information 7. Reads, records and playbacks TPMS live data, including tire pressure, signal status, temperature, battery status, etc. Retrieves TPMS ECU information 9. Performs actuation tests and special functions 10.
Programs vehicle ECU to learn sensor IDs and positions 11. Capable of programming single tires for Chrysler, Renault, and Citroen 12.
Checks Remote Keyless Entry (Key FOB) for transmissions 13. Graphs vehicle with 4 or 5 wheels to simplify the diagnostic process 14. Pre-selection process offers faster activation and diagnostics 15. Provides visual and audible responses to confirm sensors are working properly 16. Incredibly easy to use with intuitive navigation and step-by-step on-screen instructions 18.
Proper LF signal to prevent being fooled by other RF signals 19. Built-in rechargeable Li-polymer battery 20. Automatic power-off to preserve battery life 21. Multilingual support: English, French, and Spanish and more languages around the world. Lifetime free update on the internet via USB port 23. Ergonomic design features strong housing and protective rubber boot.
For ABARTH, for Acuba, for Alfa Romeo, For Alpina, for Aston Martin, for Audi, for Bentley, for BMW, for Bugatti, for Buick, for BYD, for Cadillac, for ChangAn, for Chery, for Chevrolet, for Chrysler, for Citroen, for Dacia, for Daewoo, for Dodge, for Ferrari, for Fiat, for Ford, for Foton, for Geely, for GMC, for GreatWall, for Haval, for Holden, for Honda, for HSV, for Hummer, for Hyundai, for Infiniti, for ISUZU, for JAC, for Jaguar, for Jeep, for Junpai, for KIA, for Lada, for Lamborghini, for Lancia, for LandRover, for Lexus, for Lifan, for Lincoln, for Lotus, for Mahindra, for Maserati, for Maybach, for Mazda, for McLaren, for Mercedes Benz, for Mercury, for MG, for Mini, for Mitsubishi, for Nissan, for Oldsmobile, for Opel, for Peugeot, for Plymouth, for Pontiac, for Porsche, for Renault, for Rolls-Royce, for SAAB, for Samsung, for Saturn, for Scion, for Skoda, for Smart, for SsangYong, for Subaru, for Suzuki, for Tesla, for Toyota, for Venucia, for Volvo, for VPG, for VW. How to Update Your MaxiTPMS TS601. TFT color display (320 x 240 dpi). 3.7 V Li-polymer battery; 2400 mAh. 0 to 50°C (32 to 122°F).
20 to 70°C (-4 to 158°F). Mini USB 2.0 x 1. 1pc x TS601 main unit 1pc x Carry case 1pc x SD Card 1pc x CD 1pc x Charger 1pc x Magnet 1pc x OBDII Cable 1pc x User Manual 1pc x USB Cable. We strive to deliver 5-star customer service. If you have any questions, please. Please choose " other" when you did not receive the item or the item doest not match the description. We are very grate if you can do that.
We will try to resolve the problem as soon as possible. Our Working time: GMT8 (8:30-18:00) from Monday to Friday.
E-Check will be held until cleared. Thank you very much for your cooperation with us when we help you to solve your problems. We will try our best to provide the top-ranking service for you.
A Vast Selection of OBDII Tools. We has developed a vast collections of OBDII tools, including: car and truck diagnostic tool, ECU programmer, car key progarmmer, mileage progarmmer, auto electronics, and more on auto repair and maintenance tools. Top Quality with Reasonable Price. We only offer workable obd2 diagnostic products, ensuring every customer a pleasant shopping experience and win a long lasting good reputation overseas at reasonable prices.
Welcome your reviews and suggestions, it will become our start point to improve. The countries can be sent are as following: United Kingdom, Austria, Belgium, Denmark, Finland, France, Germany, Ireland, Italy, Luxemburg, Netherlands, Portugal, Spain, Sweden ect.
Vgate vLinker FS OBD2 Diagnostic Scanner Interface Tool For Ford /Mazda/FORScan. 10x Xhorse XT27A01 VVDI Super Chip For Transponder Cloner for VVDI Key Tool MAX. Xhorse Remote Tester Radio Frequency Infrared Reader Remote Key Frequency Teste. XHORSE VVDI MINI KEY TOOL Remote OBD2 Car Progarmmer Chip Transponder Generator. Creator C310+ OBD2 Scanner for BMW Code Reader Diagnostic Check Engine Oil Reset.
CRSCAN F04 Underground Cable Locator, Wire Tracer Cable Tester tool with Earphone.