4pcs Autel TPMS MX-sensor 433mhz 315Mhz Tyre Pressure Monitoring Sensor Rubber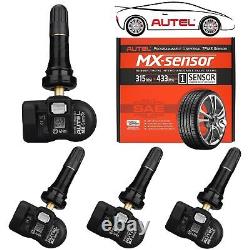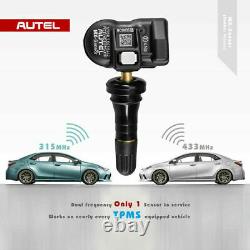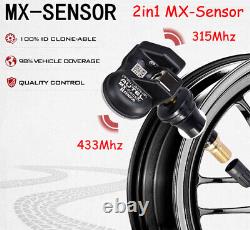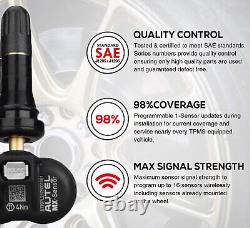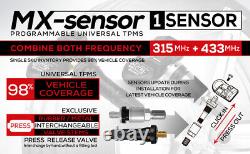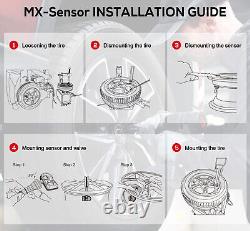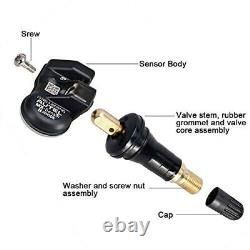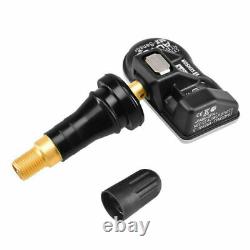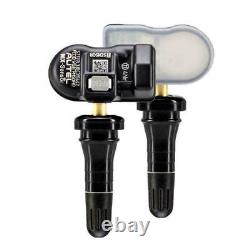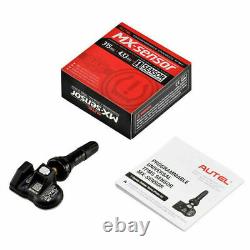 4pcs Autel TPMS MX-sensor 433mhz 315Mhz Tyre Pressure Monitoring Sensor Rubber. Autel TPMS MX-sensors 2 in 1 double frequencies (315MHz + 433MHz) sensors. Rubber valve and aluminum valve. Introduction - AUTEL MX-Sensor 2 In 1 (315 + 433MHz). Autel MX-Sensor 2 In 1 (315 + 433MHz), as a programmable universal sensor featuring in Clamp-in and Snap-in options which are both smart and efficient specially built for sensor replacement with maximum application coverage, ease of use, OE-level fit, performance and reliability, will help users economize the cost of diagnostic work and raise the repair efficiency greatly.
2 IN 1 FEATURE : Only 1 Sensor to service nearly every TPMS equipped vehicle to lower repair cost and to have higher install efficiency with no relearn required. The MX-Sensor is 100% cloneable with the original sensor ID and put in the same position. 98% COVERAGE : Featuring the latest and most comprehensive coverage of 98% OE sensors on the market, and up to 90% of North American, European and Asian vehicles, it nearly fits all types of wheels on the road.
EASY TO USE : The maximum sensor signal strength allows sensors to be easily programmed wirelessly even when they have already been mounted to the wheel. Moreover, the unique PRESS release valve design makes the manual sensor replacement much easier. SOLID & DURABLE : Equipped with an automotive grade battery, a replaceable aluminum/rubber valve stem to withstand cold, hot and resistance corrosion, and a high-precision air valve to prevent air leakage, this sensor ensures superior stability and performance.
Each sensor is marked with a series number to track the sensor quality from the factory to ensure that only the highest quality parts are installed. High-Speed Accident Mostly Due To A Blow Out. Tire Aging/ Tire Leak/ High Temperature/ Speeding/ Overloaded..
Operating Temperature: -40°C - 125°C. Storage Temperature: -40°C t - 125°C. Pressure Monitoring Range: 100 - 900kPa.
Temperature Reading Range: -40°C - 125°C. G Sensor Reading Accuracy: ±15%. Dimensions (W x H x D): 54.2 mm x 29.4 mm x 19.1 mm (Snap-in Sensor).
Weight (Without Valve): 0.034lb. 4 315Mhz & 433Mhz 2IN1 MX-Sensor Rubber.