4pcs Autel MX-Sensor 315&433MHz Programmable TPMS Universal Tire pressure Sensor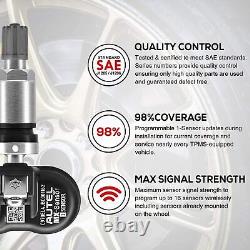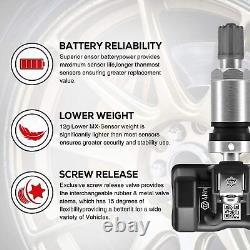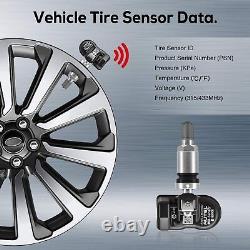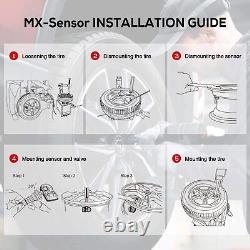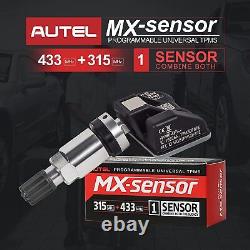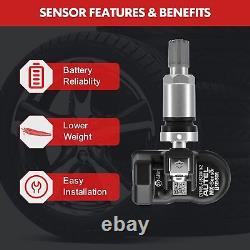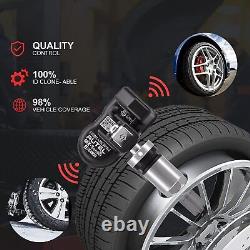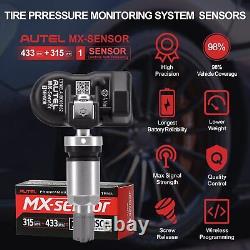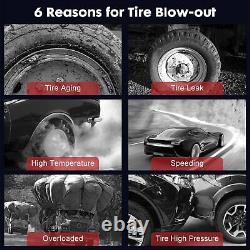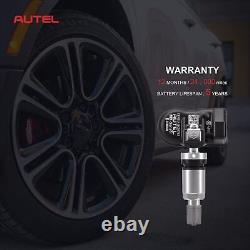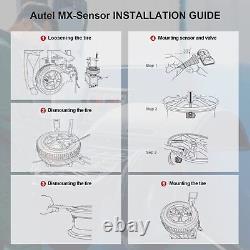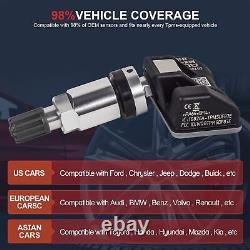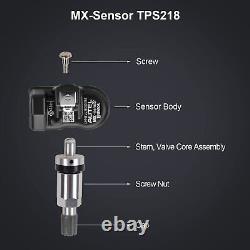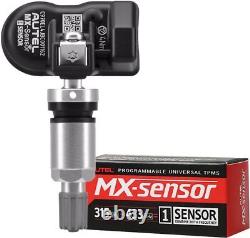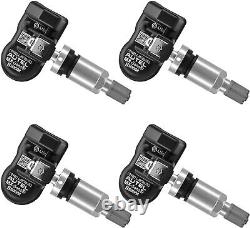 4pcs Autel MX-Sensor 315&433MHz Programmable TPMS Universal Tire pressure Sensor. Why you should choose this autel mx sensor? Autel MX-Sensor 2 in 1 Sensor. Autel 2 in 1-Sensor combines both 315MHz + 433MHz frequencies into one TPMS sensor with the highest industry vehicle coverage. The exclusive MX-Sensor patented PRESS release valve stem design, allows rubber and metal valve stems to freely interchange by hand, without requiring a tool for sensor head fitting. Built to match or exceed OEM sensors in frequency strength and durability, MX-Sensors are 100% ID clone-able with no relearn required and offer latest model vehicle coverage because they quickly update during installation with an Autel wireless programming tool. Autel MX-Sensor 1 Sensor Features. This tire pressure monitoring sensor (for TPMS) has been manufactured to combine both 315 MHz and 433 MHz applications in one sensor to greatly simplify users' inventory management and lower the investment as well as sales loss. And it is built to perform like OE sensors in terms of signal, durability and functionality. Maximum Signal Strength Wireless Programming. The extraordinary sensor signal strength allows AUTEL 1-Sensor to be easily programmed wirelessly even when the sensors have already been mounted to the wheel. And with strong signal strength, now up to 16 sensors can be programmed in one session with Autel latest TPMS tools. Exclusive Press Release Interchangable Valve Stems. The patented press release valve design allows interchangeable rubber and metal valves to be easily replaced in the same sensor head by hand, with no valve fitting tool required. Installing TPMS sensors has never been so easy. Superior Battery Reliability lower Sensor. With the highest quality materials and advanced TPMS technology, AUTEL 1-Sensor provides superior battery life and reliability, to match OE sensor battery performance. The 1-Sensor body weighs only 13g, making it significantly lighter than most sensors in the market, which ensures better sensor stability and performance. An easy to use and cost effective necessity for any shop performing TPMS repairs, the Autel 1-SKU sensor has the long ability to cover over 98% of all OE sensors on the market, to support up 90% of North American, European and Asian brands.
On the shop level, needing only 1-Sensor to service nearly every TPMS equipped vehicle means lower repair cost and higher install efficiency. Autel guarantees MX-Sensor are free from manufacturing defects for a period of 24 months or 24,000 miles, whichever option comes first. Each Autel MX-Sensor has a series number for assuring quality control. The series number is imprinted on the sensor or can be read with Autel TPMS tools. With the series number, Autel can track the sensor quality from our factory manufacturing to ensure only the highest quality parts are installed.
How To Install This Autel MX-Sensor 1 Sensor? Loosening the tire: Remove the valve cap and core and deflate the tire. Use the bead loosener to unseat the tire bead.
Dismounting the tire: Clamp the tire onto the tire changer, and adjust the valve at 1 o'clock relative to the tire separation head. Insert the tire tool and lift the tire bead onto the mounting head to dismount the bead. Dismounting the sensor: Remove the screw nut from the valve stem, and then remove the sensor assembly from the rim.
Mounting sensor and valve: Connect the sensor body and valve stem at a suitable angle (normally use the maximum angle of 30 degrees) and tighten the screw. Remove the screw nut from the valve stem.
Slide the valve stem through the valve hole of the rim with the sensor on the inside of the rim. Tighten the screw-nut with 4.0 nm with the help of the positioning pin. Mounting the tire: Place the tire on the rim, make sure that the valve faces the separation head at an angle of 180 degrees. Mount the tire over the rim. ·The TPMS sensor assemblies are replacement or maintenance parts for vehicles that have a factory installed TPMS.
·Make sure to program the sensor by Autel sensor programming tools for your specific vehicle make, model and year before installation. ·Do not install programmed TPMS sensor in damaged wheels. ·In order to guarantee optimal function, the sensor may only be installed with original valves and accessories provided by Autel. ·Each time a tire is serviced or dismounted, or if the sensor is removed or replaced, it is mandatory to replace the rubber grommet, washer, nut and valve core with our parts to ensure proper sealing. It is mandatory to replace the sensor if it is extremely damaged. ·Autel MX-Sensor arrive blank and must be programmed with an Autel TPMS service tool prior to installation or at 0 PSI/kPa. ·Do not race with the vehicle on which the Snap-in MX-Sensor is mounted, and always keep the drive speed under 180km/h for Metal Valve sensor, or 240km/h for Rubber Stem sensor. ·Operating Temperature: -40°C - 125°C. ·Storage Temperature: -40°C t - 125°C. ·Temperature Reading Range: -40°C - 125°C. ·G Sensor Reading Accuracy: ±15%. 42.424.116.0 mm. ·Weight of Sensor without Valve: 13g. All our products are 100% original and brand new with latest version. We really appreciate your understanding!
12 months free repair for the devices. 3 months for the accessories. If after 7 days, or the item has been used, we have the right to decline your claim. We are an OBD automobile testing equipment, digital HD line, Caska DVD navigation and other products wholesale distribution of the private-owned enterprises.
As a new type of electronic business enterprise, our products has a higher position in the consumer. Our company established a long-term and stable relations of cooperation with several retailers and agents. We sell OBD, automobile testing equipment, digital hd line variety complete, the price is reasonable. The company strength is abundant, the heavy credit, abiding by contract, guarantee product quality, with many varieties management characteristic and the meager profit but high turnover principle, has won the trust of our customers. We have top rated after-sales service. TO MAKE THINGS RIGHT before you leave feedback or open any case. We are 100% sure that we can solve any issues regarding.
GMT8 (9:00-18:00) from Monday to Friday. Diagnostic Tool Code Reader Scanner.