Programmable TPMS Universal Tyre Pressure Sensors 4 Pack Seat Leon Ibiza Ateca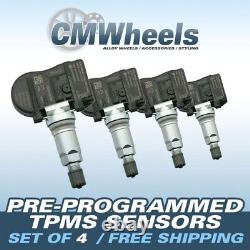 Set of 4 - Pre-Programmed Tyre Pressure Monitoring Sensors. Suitable for all Makes / Models. 315MHZ & 433MHZ 2in1 This tire pressure monitoring sensor (for TPMS) has been manufactured to combine both 315 MHz and 433 MHz applications in one sensor to greatly simplify users' inventory management and lower the investment as well as sales loss. And it is built to perform like OE sensors in terms of signal, durability and functionality.
Maximum Signal Strength Wireless programming The extraordinary sensor signal strength allows Sensor to be easily programmed wirelessly even when the sensors have already been mounted to the wheel. And with strong signal strength, now up to 16 sensors can be programmed in one session with latest TPMS tools.
Exclusive Press Release Interchangable Valve Stems The patented press release valve design allows interchangeable rubber and metal valves to be easily replaced in the same sensor head by hand, with no valve fitting tool required. Installing TPMS sensors has never been so easy. Superior Battery Reliability lower Sensor With the highest quality materials and advanced TPMS technology, AUTEL 1-Sensor provides superior battery life and reliability, to match OE sensor battery performance. The 1-Sensor body weighs only 13g, making it significantly lighter than most sensors in the market, which ensures better sensor stability and performance. 98% Vehicle Coverage An easy to use and cost effective necessity for any shop performing TPMS repairs, the sensor has the long ability to cover over 98% of all OE sensors on the market, to support up 90% of North American, European and Asian brands.
On the shop level, needing only 1-Sensor to service nearly every TPMS equipped vehicle means lower repair cost and higher install efficiency. Strict Quality Control guarantees MX-Sensor are free from manufacturing defects for a period of 24 months or 24,000 miles, whichever option comes first. Each MX-Sensor has a series number for assuring quality control. The series number is imprinted on the sensor or can be read with TPMS tools. With the series number, can track the sensor quality from our factory manufacturing to ensure only the highest quality parts are installed.
We are based in Northern Ireland and with the Northern Ireland Protocol agreed with the EU, NI remains within the EU Free Trade Agreement. Credit/Debit Card: (Goods can ONLY be delivered to the credit/debit card billing address).