Autel TS601 TPMS Car Wheel Diagnostic Scanner Tool MX-Sensor Reset Reprogramming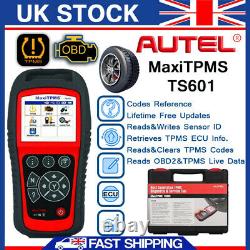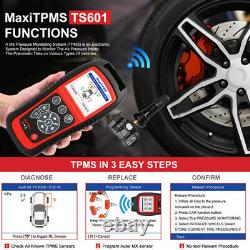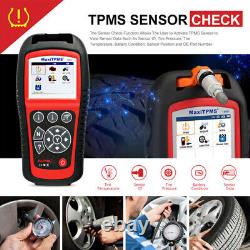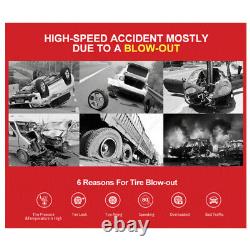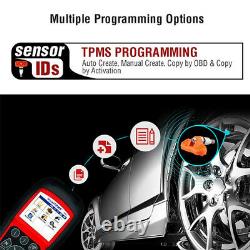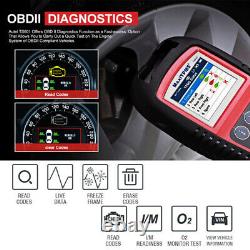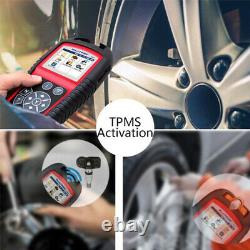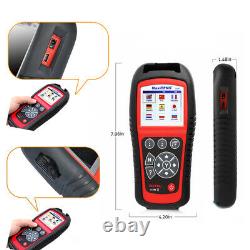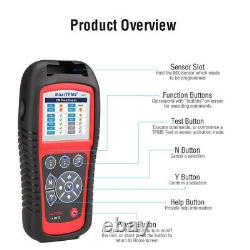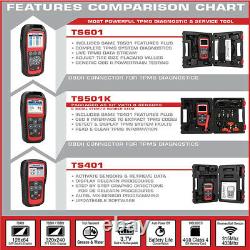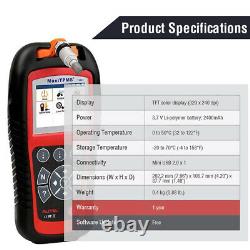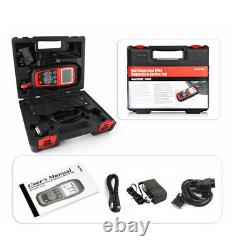 Autel TS601 Auto OBD2 Diagnostic Scanner Tire TPMS Service Tool Reset Reader UK. Autel is a leading company experienced in producing professional diagnostic tools, equipment and accessories in the automotive aftermarket.
Focused on the orientation of "value innovation and assiduous pursuit", Autel has always adhered to deliver easier diagnostic solutions and long-time value to customers worldwide. The MaxiTPMS TS601 is a TPMS diagnostic & service tool capable of wirelessly diagnosing TPMS problems as well as reprogramming the vehicle's ECU. This professional TPMS tool is the best solution for tire and automotive workshops that require a diverse tool to perform various TPMS services!
OBD2 Connection & TPMS ECU Diagnostics. TS601 offers complete OBD II Diagnostic Functions, such as reading & clearing codes, live data, retrieving I/M readiness status, O2 monitor test, on-board monitor test and more, as a fast-access option that enables a quick emissions test on the engine system of OBD II-compliant vehicles.
What's more, it can perform an OBD II-Assisted Relearn, wirelessly communicating with vehicles and triggering wheel-mounted sensors, to directly write sensor IDs into the vehicle ECU for sensor recognition, eliminating the need for a second tool. The professional TS601 provides you with advanced TPMS diagnostics functions and services, to facilitate your TPMS-related repair works. The TPMS tool includes features as followings. Activates all known OEM / Universal TPMS sensors using 125KHz continuous or modulated wave signals. Reads sensor data including sensor ID, tire pressure, temperature, battery condition, OEM part number, OEM sensor maker and OEM frequency.
Allows you to directly read feedback from all 4 sensors, clearly view the status of all TPMS sensors, and compare sensor and ECU data to instantly pinpoint system faults. Offers on-tool relearn procedure for every TPMS-equipped American, Asian and European vehicle.
No need for relearn charts or internet lookups. Programs AUTEL MX-Sensor with multiple options available including Auto Create, Manual Create, or Clone Sensor IDs with no sensor re-learn required for sensor positioning. Offers OBD II Relearn to write IDs to vehicle directly without further procedures. Offers visual / audio responses to make the operations much easier to complete. Checks Remote Keyless Entry (Key FOB) for transmissions.
Incredibly easy to use with intuitive navigation and step-by-step on-screen instructions. TS601 is capable of wirelessly diagnosing TPMS problems, including reading / writing sensor IDs in vehicle's ECU, reading / clearing codes of TPMS system, reading TPMS live data, retrieving TPMS ECU information, and performing actuation tests and special functions, and to save data for later reviews and printing. When the tire pressure fault occurs, use it to diagnose to get the trouble codes and locate the wrong tire.
Two ways in the following. 2 After entering the main menu interface, when the icon like activation key moves to left front tire, press the activation key to diagnose.
Over time, you need to replace sensor. If you bought a new OE level sensor, use TS601 to activate the new one to make sure it will work well. Through relearning, the ECU can recognize the new sensor and show you warning light when there is something wrong about tire. Suzuki, Honda, Mitsubishi, Nissan, Toyota, Mazda, Hyundai, Kia, Subaru, Infiniti, Lexus, Accura, Isuzu.
Mercedes Benz, BMW, EUFord, Renault, Citreon, Peugeot, VW, Opel, Volvo, Fiat, Landrover, Seat, Skoda, Audi, Porsche, Saab, Jaguar. Activates ALL sensors triggered by magnetic, frequency and tire deflation using 125KHz continuous or modulated wave signals. Receives both 315MHz and 433MHz signals. Reads / clears codes of TPMS and resets malfunction indicator light. Reads activated sensor data including sensor ID, tire pressure, temperature, battery condition, OE part number, relearn information.
Reads, records and playbacks TPMS live data including tire pressure, signal status, temperature, battery status, etc. Programs vehicle ECU to learn sensor IDs and positions.
Capable of programming single tires for Chrysler, Renault, and Citroen. Graphs vehicle with 4 or 5 wheels to simplify the diagnostic process. Pre-selection process offers faster activation and diagnostics. Offers visual and audible responses to confirm sensors working properly.
Easy to use with intuitive navigation and step-by-step on-screen instructions. Performs basic OBD2 functions: read and clear DTCs. Automatic power-off to preserve battery life. Multilingual support: English, French, and Spanish, etc. Free update on the internet via USB port. Ergonomic design features strong housing and protective rubber boot. A growing number of vehicles need a diverse tool for the following. To activate a newly mounted TPMS sensor. To reprogram the ECU to facilitate the new sensor recognition when tires change order, or switch from winter to summer types, or a new wheel mounted to a vehicle, and so on. To send TPMS sensor information to the vehicle's ECU after activating and receiving the TPMS sensor information. Display TFT color display (320 x 240 dpi). Power 3.7 V Li-polymer battery; 2400 mAh. Operating Temperature 0 to 50°C (32 to 122°F). Storage Temperature -20 to 70°C (-4 to 158°F).
Connectivity Mini USB 2.0 x 1. Dimensions (W x H x D) 202.2 mm (7.96") x 106.7 mm (4.20") x 37.7 mm (1.48). Weight 0.4 kg 0.88 lb. All our products are located in our UK warehouse DUNSTABLE.
We really appreciate your understanding! OBD2 Automotive Diagnostic Scanner Tool. For more than 20 years with a most professional team over 1000 people. We are the authorized dealer of.
All our products are 100% genuine and brand new. TOPDON , our self-owned brand, is rapidly developing and becoming stronger. TO MAKE THINGS RIGHT before you leave feedback or open any case. We are 100% sure that we can solve any issues regarding.
GMT8 (9:00-18:00) from Monday to Friday. The item "Autel TS601 TPMS Car Wheel Diagnostic Scanner Tool MX-Sensor Reset Reprogramming" is in sale since Wednesday, May 8, 2019. This item is in the category "Vehicle Parts & Accessories\Car Wheels, Tyres & Trims\Pressure Monitoring Systems". The seller is "bossservices" and is located in Dunstable.
This item can be shipped to European Union member countries.
Vehicles coverage: Ford,GM,Chrysler, Renault, Citroen,BMW,Honda,etc
Vehicle Type: Citroen,Peugeot,BMW,Renault,Ford,Dacia,VW,Porsche.
OBD Interface: CANBUS OBD2 EOBD OBDII
Supported System: TPMS Tyre Pressure Monitoring System
Update: Lifelong Free Updates
Country/Region of Manufacture: China
Free Shipment: UK Fast DHL / Royal Mail
Language: English, French, German, Italian, Portuguese, etc.
Model: MaxiTPMS TS601
Similar Model: TS501 TS508K TS401
Similar Model 2: MaxiCOM MK808TS MaxiSys MS906TS PRO ELITE
Similar Brand: ANCEL LAUNCH X431 FOXWELL iCARSOFT Snap On
Type: TPMS diagnostic & service tool
Compatiblity: 433 MHZ 315 MHZ Sensors
Function 1: OBD2 All Test
Function 2: Reads / writes sensor ID from vehicle ECU
Function 3: Reads / clears codes of TPMS system
Manufacturer Part Number: MaxiTPMS Tyre Pressure Monitoring System MK808TS
Function 4: Resets malfunction indicator light
Function 5: Reads activated sensor data
Function 6: Reads, records and playbacks TPMS live data
Function 7: Retrieves TPMS ECU information
Function 8: Performs actuation tests and special functions
Function 9: Programs vehicle ECU to learn sensor IDs/positions
Function 10: Checks Remote Keyless Entry (Key FOB) for A/T
Brand: Autel
Warranty: 1 Year
Unit Type: Unit
Unit Quantity: 1