Autel MaxiTPMS TS508 Tire Pressure Monitoring System TPMS Relearn Reset Tool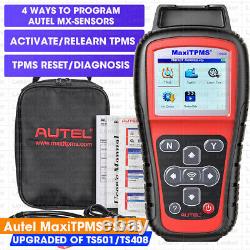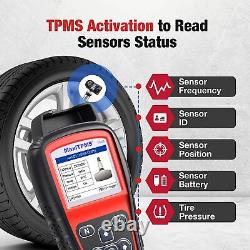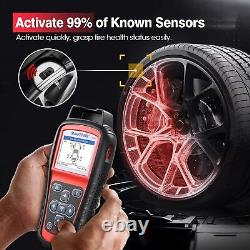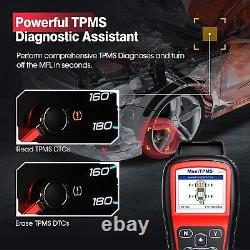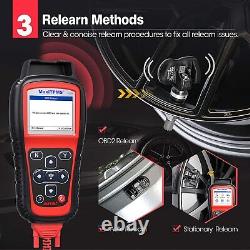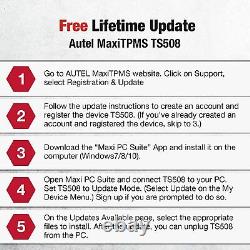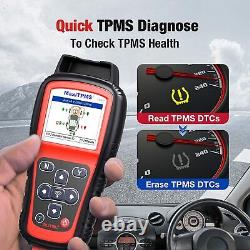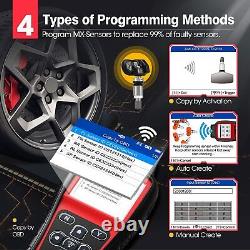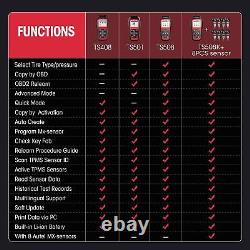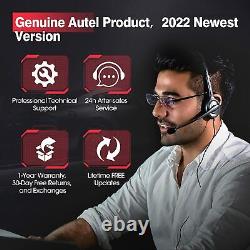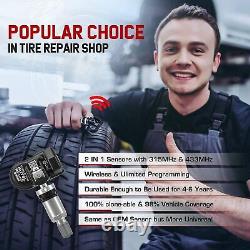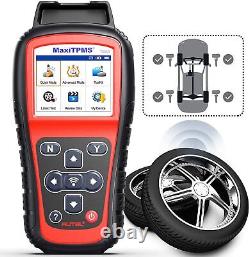 2023 New Version TPMS Relearn tool---Autel MaxiTPMS TS508. 4 MX-Sensors Programming Options: Copy by Activation, Copy by Manual Input, Auto Create, and Copy by OBD. 3 TPMS Relearning Ways: OBD Relearn, Automatic Relearn, and Stationary Relearn. 2 TPMS Service Modes: Quick Mode and Advanced Mode to suit different diagnostic needs. 1 Second to Read and Erase DTCs: Read fault code, find out the problems, and turn off the TPMS light. TPMS Diagnostics: Scan TPMS system, retrieve ECU information, and locate problems. Fast Reading Sensor Data: Include sensor ID, tire pressure, temperature, battery, position, frequency, etc. DTCs Detail Description Viewing: For further check and diagnostics. Key Fob Checking: To check the frequency of the key fob and battery electricit. Diversified Programming Methods of TS508 Programming Tool. Autel TS508 Tire Pressure Monitoring System Tool couples with 4 sensor programming options to obtain sensor ID according to different situations and meet user's needs. TS508 TPMS Programming Tool is specially designed for Autel MX-Sensors, which can be used to program the 315/433MHz MX-sensors. And it can wirelessly program up to 16 sensors simultaneously, greatly improve the efficiency. If the old sensors are not completely broken, you can activate or trigger the old sensors and retrieve the old ID, and then write it into the new MX-Sensors.
The new MX-Sensors can be replaced directly in the original position without relearning. If the original sensor is completely bad or can't be activated, you can find the old ID from the cover of the old sensors, and manually input the old sensor ID to new MX-Sensors.
If the old sensor is completely broken or the original sensor ID can't be obtained, you can use the TS508 TPMS programming tool Auto create new unique ID(s) to 1-16 MX-Sensor(s). Compared to Autel TS408 & TS401, TS508 can read/clear TPMS DTCs and has an OBD2 connector. You can connect the OBD cable and read ECU information to receive the old sensor data like sensor ID previously stored in TPMS ECU module and copy it to MX-Sensors.
3 TPMS Relearn Ways--Always A Way To Fit Your Appetite. TS508 TPMS Relearn tool is compatible with 99% of the vehicle with TPMS system and it is also popular among small repair shops and individual car owners. For different car models, TS508 diagnostic tool has been designed with 3 TPMS position relearn methods that are comparable to the OE level.
MaxiTPMS TS508 tool provides detailed on-screen instruction to free your worry. 56% of Users' Choices>>OBD relearn allows the TS508 TPMS relearn tool to directly write the TPMS sensor IDs to the TPMS module via the OBD connector to make the on-board TPMS modules recognize the new sensors. (Note: TS401& TS408 not available with OBD Relearn). 38% of Users' Choices>>For some vehicles, the "Relearn" function can be completed automatically by driving, which makes it quite easy to do a complete set of sensor replacement operations on your own. 18% of Users' Choices>> This relearn way requires the vehicle to be placed in the "Learn Mode" and follow the instructions to finish "Relearn". Quick Mode & Advanced Mode. Compared with Autel MaxiTPMS TS501, TPMS scan tool TS508 offers 2 operating modes for faster & smarter TPMS repairs. "Quick Mode" allows you to perform basic TPMS functions such as check TPMS sensors and program MX-Sensors quickly. "Advanced Mode" exerts comprehensive TPMS functions including TPMS diagnostics, MX-Sensor program, TPMS Relearn and Activation, retrieve sensor information.
Scan Sensor & Vehicle Identification. Activate All the TPMS Sensor.
Program Sensor: Copy by Activation, Copy by Manual Input, Auto Create. TPMS Diagnostics: Check TPMS and Sensor State, Trigger Sensors, Read/Erase DTCs, Re-check ECU, Turn off the Light. Program Sensor: Copy by OBD, Copy by Activation, Copy by Manual Input, Auto Create. Position Relearn: OBD Relearn, Automatic Relearn, Stationary Relearn. Information: OE Sensor and MX-Sensor Information, OBD2 Port Location.
Read/Write Tire Type and Tire Pressure. Autel TS508 = TPMS Tool + Code Reader. Autel MaxiTPMS TS508 is a powerful all-in-one TPMS scan tool, not only it can program/activate/relearn the sensors, but also can scan the TPMS system, do TPMS diagnostics, and read/clear the codes.
You can't imagine that this small body is loaded with so many surprises. TS508 can quickly scan the TPMS system to check TPMS and sensor state and pinpoint the problems so that users could timely repairs and maintenance.
TS508 will read TPMS faulty codes and give specific code descriptions to facilitate clearing the code and turning off the light. Activating All-known Brand TPMS Sensors. TS508 TPMS Reset tool can activate all the OE and common TPMS sensors and help you obtain sensor data information. Autel TPMS TS508 tool is portable and easy to use, holds various TPMS functions, and plays different roles.
Judgment basis of the good or bad condition of the sensors. A must step before performing relearn function. Activating tool for 99% of vehicles with TPMS sensors on the market. Serving all the 315MHz and 433MHz sensors. TS508 TPMS scan tool can accurately read sensor information including sensor ID, tire pressure, temperature, battery, position, frequency, etc.
The real-time data feedback from all sensors knows you the health of tires to ensure timely repair and personal safety. TS508 TPMS programming tool can be likened to a signal transmitter. The key fob test function designed on TS508 can be used to check the frequency of the key fob and battery electricity to determine whether it needs to be charged or replaced.
Report Printing & Free Updating. TS508 TPMS diagnose Tool comes with Report Printing that you can review the data and print out the diagnostic report for further analysis and accurate maintenance. Lifetime Free Updating keeps you in step with the latest functions and software.