Promata Mata T2-6 Truck 6 External Sensor Tyre Pressure Monitoring System TPMS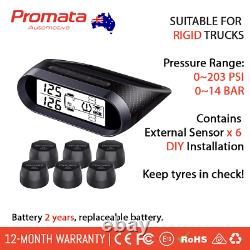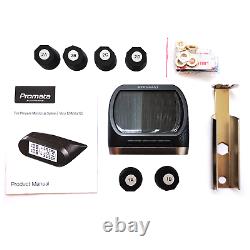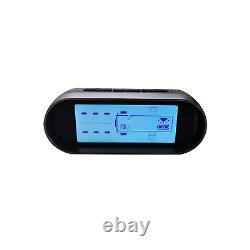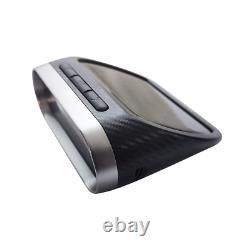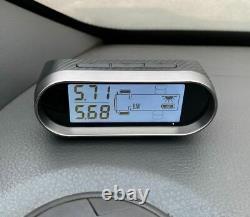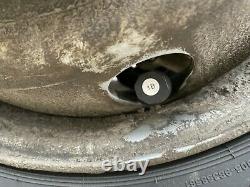 Promata Truck Tyre Pressure Monitoring System. Mata T2 Tyre Pressure Monitoring System is a solar-powered external TPMS for trucks and other heavy vehicles.
It has a large and stylish LCD display plus six waterproof external truck sensors for DIY installation. This kit includes 6 external sensors, but w. Ith additional sensors, the display can monitor up to 14 tyres for vehicles and is extremely easy to install and use. Our other model Mata T2S features the same type of display but can monitor up to 22 tyres.
DIY installation in 3 easy steps. Turn on the display 2. Install security nuts (can skip installing the nuts) and sensors to the tyres by replacing the original vale cap.
Mount the display on the dashboard, and youre ready to go! Hop in the vehicle, and the vibration-activated display will wake up 2. FreshData® tyre information will update on the screen, two wheels at a time, in a rotating motion. The solar-powered display will be charged by sun. Users can easily check the pressures on the vehicle from the display.
The classic mono screen is easy to read at bright sunny daylight and the backlight comes on for clear reading at night. If detecting a tyre abnormality, the display will alarm audibly with the problem tyre flashing. User will be able to see the pressure of the problem tyre and could drive to the nearest automotive service point to check it out. After a long drive, park the vehicle. Leave the display there, and the system will go into automatic sleep after a few minutes when the ignition is turned off. For trucks over 10m or for more than 6 sensors, an optional repeater will boost the monitoring distance to 30m. Scroll down for a full list of features. A 6-Sensor external truck tpms kit.
Monitoring Range: Pressure 0203PSI / 014 BAR; Temperature: 0120 °C / 32 248 °F. All-weather design with IP67 waterproof heavy duty sensors.
Monitors each individual tyre pressure and temperature in real-time. Alerts for low pressure, high pressures, fast air leakage and high tyre temperature. Adjustable high tyre temperature alert: 70120°C / 158248°F. Two sets of adjustable base pressure available.
One set for the front two wheels, the other for the rest of the wheels. Base pressure selectable range: 15 159 PSI / 1 11 BAR; alarm will be triggered at ±25% base pressure. Suitable for trucks, buses and other heavy industry vehicles. Can be upgraded to monitor 14 tyres with additional sensors. Quick sensor pairing function available.
Patented lock nut removal tool. Rechargeable solar-powered display with high temperature resistant battery.
Large mono digital screen can display 2 tyre pressures in a rotating motion. Automatic screen brightness for clear view under strong sunlight. Additional USB-C charging port available for charging the display. Display compatible with passenger car external sensors and passenger car internal sensors.
One full charge lasts more than 30 days. Note: This unit does not monitor detachable vehicle tyres, and will alarm if the sensors are missing. Delete function is available for quickly disconnecting unwanted tyre sensors. For monitoring detachable caravans and trailers, we recommend mata1e or mata1e-8, these will automatically recognize when the caravan/trailer is close by.
External heavy duty truck sensor 2. ±1.5Psi/0.1 Bar High accuracy 4. Light weight external sensors for heavy industry vehicle wheels, no need for truck wheel rebalancing.
IP67 protection against dust and water 6. 2-year sensor battery life 8.
Anti-theft lock nuts included to provide extra security 9. Repeater/booster is required if sensor to display distance is over 10m, or there are 6+ sensors 3. Repeater/booster increases sensor monitoring range to 30m.
Promata® brand was introduced in 2011, the main products currently include the Tyre Pressure Monitoring System, Parking Sensors, Power Door Locking System, Vehicle Actuator, DRLs, LED Head Lights, Autolights and the Anti-Collision Alert System. We design our TPMS systems with passion and innovation. Mata1 is the new generation of TPMS designed for 90% of vehicles on the road - including everyday vehicles, 4WD Recreational Vehicles, caravans, motorhomes and even light trucks. Mata1 and Mata1E can monitor up 10 sensors.
Our commitment to quality, performance and service is the driving force for our success. ERP and ISO/TS16949 system are adopted, and all products are designed, produced and released under strict quality control.
We supply our quality products to customers in more than 50 countries. If any errors occur or issues arise then these need to be reported to us immediately so we can investigate and authorise the return for replacement and repair. Please ensure that the items you are returning are in original packaging with all its accessories and documentation e.
If a genuine fault is found, we will replace or repair the products and return to the customer free of charge. The item "Promata Mata T2-6 Truck 6 External Sensor Tyre Pressure Monitoring System TPMS" is in sale since Tuesday, June 30, 2020.
This item is in the category "Vehicle Parts & Accessories\Car & Truck Parts\Wheels, Tyres\Tyre Accessories". The seller is "promata_australia" and is located in North Sydney, NSW.
This item can be shipped worldwide.
Custom Bundle: No
Type: Tyre Pressure Monitor System
Manufacturer Part Number: MataT2-6
Brand: Promata
Warranty: 1 Year