Doran 360RV8 Tire Pressure Monitoring 8 Sensor System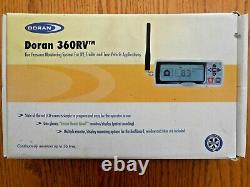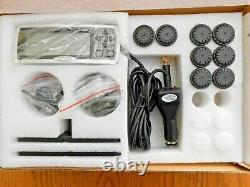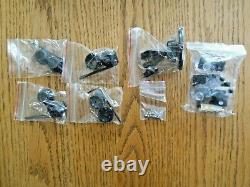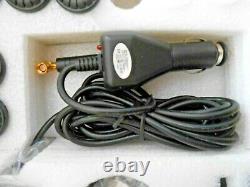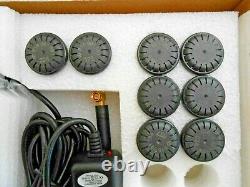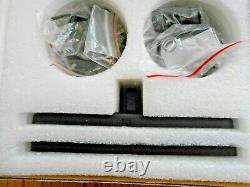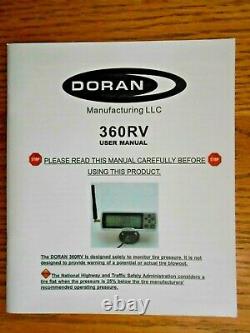 Doran 360RV8 Tire Pressure Monitoring 8 Sensor System. Brand New in open box Never Installed.
The Doran Tire Pressure Monitoring - 8 Sensor System uses a state of the art monitor with LCD screen that is simple to program and easy for the operator to use. Direct Tire Pressure Monitoring Systems (TPMS), such as the Doran 360 RV use pressure sensors located on each wheel's valve stems to directly measure the pressure in each tire. These sensors broadcast pressure data via a wireless radio frequency transmitter to a central receiver. The data is analyzed and the results sent to a display mounted inside the vehicle. Since a direct tire pressure monitoring system actually measures the pressure in each tire, it is able to detect when any tire or when each tire in any combination is under-inflated, including when all four of the vehicle's tires are equally under-inflated.
INCLUDES: (1) PROGRAMMABLE MONITOR/DISPLAY, (1) PRE-WIRED 12-VOLT POWER CORD, (8) WIRELESS TIRE PRESSURE SENSORS, (8) SENSOR LOCKS AND LOCKING TOOLS, (1) PEDESTAL MOUNTING BRACKET KIT, (1) VISOR/HOOK & LOOP MOUNTING BRACKET KIT, (1) DILL VALVE TESTER & (1) INSTRUCTION MANUAL. Sensors are vibration, temperature, mechanical shock and chemical resistance. Housing are thermal resistant, high-impact nylon to handle the most difficult road conditions and temperature extremes. The internal components are protected by a high-grade potting material to provide component security and an air tight fit. Dorans unique three-piece seal design maximizes valve core depression and minimizes the potential for leaks. The sensors are waterproof, weatherproof and spin-welded to prevent corrosion and provide long-life. Each sensor is laser etched with a unique serial number to make programming and installation easy. Doran's wireless sensors are programmed to each tire location with a specific baseline tire pressure that you want to maintain in your tires. The sensors are simply screwed on to the valve stems of the appropriate tire to activate the RF signal and transmit data. A long-lasting lithium-Ion battery provides up to five years of reliable power to the sensors.
No replaceable batteries, they are built in, replace sensors when batteries die. The small footprint monitor (roughly the size of a dollar bill) with the large digital LCD screen is backlit and comes pre-wired with a 12-volt plug for easy installation. The display screen can be programmed to your preference with your desired tire locations and orientation. A Green Means Good indicator light provides at-a-glance confidence that the system is working properly and the tires are at the proper pressures.
The Doran 360RV system comes with a pedestal mo. Warrantyunting kit and visor clip/fastening tape kit to provide you with multiple options for the monitor/display. There is an optional sleep mode that can be activated by hard wiring the monitor which will suspend any alarms until the ignition is turned on. Types of Alerts (both audible and visual). A patent pending FastLeak Alert is triggered with a 2.8 psi pressure drop in less than 12 seconds which lets the driver know that there has been a sudden decrease in pressure that needs to be addressed.
Standard low pressure warnings are activated at 12.5% and 25% below the programmed baseline tire pressure. A high temperature alarm goes off when the temperature of a sensor reaches 175° F which indicates a potential problem with the tire. An optional high pressure setting can be set to provide a warning when the pressure reaches 25% above the baseline tire pressure. Can monitor up to 14 tire sensors. If you have a large vehicle or are hauling/towing then you may need a Doran 3624 360RV Interior Signal Booster.
Doran 360RV Tire Pressure Monitoring - 8 Sensor System. The item "Doran 360RV8 Tire Pressure Monitoring 8 Sensor System" is in sale since Monday, October 4, 2021. This item is in the category "eBay Motors\Parts & Accessories\Car & Truck Parts & Accessories\Wheels, Tires & Parts\Tire Pressure Monitoring Sensor". The seller is "keweljewel5" and is located in Aberdeen, Washington. This item can be shipped worldwide.
Type: Sensor
Manufacturer Part Number: RV8
Brand: Doran
Sensor Quantity: 8